Champlain Valley Game Night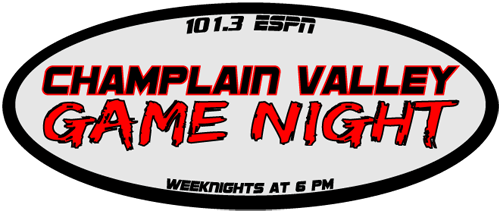 Champlain Valley Game Night airs weeknights from 6-7 p.m. and is your place for all things LOCAL sports. Your host, Brady Farkas, takes an in-depth look at Vermont and Northern New York high school and collegiate sports, highlighting the accomplishments of area athletes and teams.
Looking for information on UVM basketball or hockey? How about Plattsburgh State soccer? Middlebury football? Norwich, Castleton, Lyndon and Southern Vermont? How about the Lake Monsters? We've got it all here on Champlain Valley Game Night.
But don't worry, national sports fans: Brady doesn't forget to hit the biggest stories of the day around the nation and the New England/New York regions.
About the host:
Brady Farkas began at ESPN Radio 101.3 in September of 2016 after spending 2.5 years at ESPN Radio 104.5 in Albany, N.Y. While in Albany, Brady served as the producer and co-host of "Big Board Sports" with Rodger Wyland and the host of "Capital Region Sports Saturday." He also had a long-term fill-in role on "The Jeff Levack Show" that included the opportunity to co-host from Radio Row at Super Bowl 50.
Brady's experience in New York crosses over to 101.3; he has great familiarity with the NFL, MLB, NBA, America East Conference and the New York-Penn League.
Follow Brady on Twitter @1013RadioBrady.