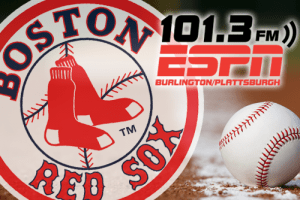 Tune in all season long, for every game, home and away.  101.3 ESPN is you home in the Champlain Valley for Red Sox Baseball.  Joe Castiglione and Tim Neverett bring you all the action.  For an inside look from the broadcast crew every game day, follow @SoxBooth on Twitter.
**DUE TO MLB RESTRICTIONS, 1013ESPN.COM IS PROHIBITED FROM STREAMING RED SOX GAMES**
Scheduled starts may change from time to time.
| | | | |
| --- | --- | --- | --- |
| Date | Opponent | Pre-Game | First Pitch |
| Mon, 4/3 | Pirates | 1:20p | 2:05p |
| Wed, 4/5 | Pirates | 6:25p | 7:10p |
| Thu, 4/6 | Pirates (Rained Out) | 12:50p | 1:35p |
| Fri, 4/7 | at Tigers | 12:25p | 1:10p |
| Sat, 4/8 | at Tigers | 12:25p | 1:10p |
| Sun, 4/9 | at Tigers | 12:25p | 1:10p |
| Mon, 4/10 | at Tigers | 12:25p | 1:10p |
| Tue, 4/11 | Orioles | 6:25p | 7:10p |
| Wed, 4/12 | Orioles | 6:25p | 7:10p |
| Wed, 4/13 | Pirates (Make-Up) | 1:20p | 2:05p |
| Fri, 4/14 | Rays | 6:25p | 7:10p |
| Sat, 4/15 | Rays | 3:20p | 4:05p |
| Sun, 4/16 | Rays | 12:50p | 1:35p |
| Mon, 4/17 | Rays | 10:20a | 11:05a |
| Tue, 4/18 | at Blue Jays | 6:20p | 7:07p |
| Wed, 4/19 | at Blue Jays | 6:20p | 7:07p |
| Thu, 4/20 | at Blue Jays | 11:50p | 12:37p |
| Fri, 4/21 | at Orioles | 6:20p | 7:05p |
| Sat, 4/22 | at Orioles | 6:20p | 7:05p |
| Sun, 4/23 | at Orioles | 12:50p | 1:35p |
| Tue, 4/25 | Yankees | 6:25p | 7:10p |
| Wed, 4/26 | Yankees | 6:25p | 7:10p |
| Thu, 4/27 | Yankees | 6:25p | 7:10p |
| Fri, 4/28 | Cubs | 6:25p | 7:10p |
| Sat, 4/29 | Cubs | 3:20p | 4:05p |
| Sun, 4/30 | Cubs | 7:20p | 8:05p |
| Mon, 5/1 | Orioles | 6:25p | 7:10p |
| Tue, 5/2 | Orioles | 6:25 | 7:10p |
| Wed, 5/3 | Orioles | 6:25p | 7:10p |
| Thu, 5/4 | Orioles | 6:25p | 7:10p |
| Fri, 5/5 | at Twins | 7:25p | 8:10p |
| Sat, 5/6 | at Twins | 1:25p | 2:10p |
| Sun, 5/7 | at Twins | 1:25p | 2:10p |
| Tue, 5/9 | at Brewers | 6:55p | 7:40p |
| Wed, 5/10 | at Brewers | 7:25p | 8:10p |
| Thu, 5/11 | at Brewers | 12:25p | 1:10p |
| Fri, 5/12 | Rays | 6:25p | 7:10p |
| Sat, 5/13 | Rays | 6:25p | 7:10p |
| Sun, 5/14 | Rays | 12:50p | 1:35p |
| Tue, 5/16 | at Cardinals | 7:30p | 8:15p |
| Wed, 5/17 | at Cardinals | 7:30p | 8:15p |
| Thu, 5/18 | at Athletics | 9:20p | 10:05p |
| Fri, 5/19 | at Athletics | 8:50p | 9:35p |
| Sat, 5/20 | at Athletics | 3:20p | 4:05p |
| Sun, 5/21 | at Athletics | 3:20p | 4:05p |
| Tue, 5/23 | Rangers | 6:25p | 7:10p |
| Wed, 5/24 | Rangers | 6:25p | 7:10p |
| Thu, 5/25 | Rangers | 6:25p | 7:10p |
| Fri, 5/26 | Mariners | 6:25p | 7:10p |
| Sat, 5/27 | Mariners | 3:20p | 4:05p |
| Sun, 5/28 | Mariners | 12:50p | 1:35p |
| Mon, 5/29 | at White Sox | 1:25p | 2:10p |
| Tue, 5/30 | at White Sox | 7:25p | 8:10p |
| Wed, 5/31 | at White Sox | 7:25p | 8:10p |
| Thu, 6/1 | at Orioles | 6:20p | 7:05p |
| Fri, 6/2 | at Orioles | 6:20p | 7:05p |
| Sat, 6/3 | at Orioles | 6:30p | 7:15p |
| Sun, 6/4 | at Orioles | 12:50p | 1:35p |
| Tue, 6/6 | at Yankees | 6:20p | 7:05p |
| Wed, 6/7 | at Yankees | 6:20p | 7:05p |
| Thu, 6/8 | at Yankees | 6:20p | 7:05p |
| Fri, 6/9 | Tigers | 6:25p | 7:10p |
| Sat, 6/10 | Tigers | 6:30p | 7:15p |
| Sun, 6/11 | Tigers | 7:20p | 8:08p |
| Mon, 6/12 | Phillies | 6:25p | 7:10p |
| Tue, 6/13 | Phillies | 6:25p | 7:10p |
| Wed, 6/14 | at Phillies | 6:20p | 7:05p |
| Thu, 6/15 | at Phillies | 6:20p | 7:05p |
| Fri, 6/16 | at Astros | 7:25p | 8:10p |
| Sat, 6/17 | at Astros | 7:30p | 8:15p |
| Sun, 6/18 | at Astros | 7:20p | 8:08p |
| Mon, 6/19 | at Royals | 7:30p | 8:15p |
| Tue, 6/20 | at Royals | 7:30p | 8:15p |
| Wed, 6/21 | at Royals | 1:30p | 2:15p |
| Fri, 6/23 | Angels | 6:25p | 7:10p |
| Sat, 6/24 | Angels | 6:30p | 7:15p |
| Sun, 6/25 | Angels | 12:50p | 1:35p |
| Mon, 6/26 | Twins | 6:25p | 7:10p |
| Tue, 6/27 | Twins | 6:25p | 7:10p |
| Wed, 6/28 | Twins | 6:25p | 7:10p |
| Thu, 6/29 | Twins | 6:25p | 7:10p |
| Fri, 6/30 | at Blue Jays | 6:20p | 7:07p |
| Sat, 7/1 | at Blue Jays | 12:20p | 1:07p |
| Sun, 7/2 | at Blue Jays | 12:20p | 1:07p |
| Mon, 7/3 | at Rangers | 7:20p | 8:05p |
| Tue, 7/4 | at Rangers | 7:20p | 8:05p |
| Wed, 7/5 | at Rangers | 7:20p | 8:05p |
| Thu, 7/6 | at Rays | 6:25p | 7:10p |
| Fri, 7/7 | at Rays | 6:25p | 7:10p |
| Sat, 7/8 | at Rays | 3:25p | 4:10p |
| Sun, 7/9 | at Rays | 12:25p | 1:10p |
| Fri, 7/14 | Yankees | 6:25p | 7:10p |
| Sat, 7/15 | Yankees | 3:20p | 4:05p |
| Sun, 7/16 | Yankees | 7:20p | 8:05p |
| Mon, 7/17 | Blue Jays | 6:25p | 7:10p |
| Tue, 7/18 | Blue Jays | 6:25p | 7:10p |
| Wed, 7/19 | Blue Jays | 6:25p | 7:10p |
| Thu, 7/20 | Blue Jays | 12:50p | 1:35p |
| Fri, 7/21 | at Angels | 9:20p | 10:07p |
| Sat, 7/22 | at Angels | 8:20p | 9:07p |
| Sun, 7/23 | at Angels | 2:50p | 3:37p |
| Mon, 7/24 | at Mariners | 9:25p | 10:10p |
| Tue, 7/25 | at Mariners | 9:25p | 10:10p |
| Wed, 7/26 | at Mariners | 2:55p | 3:40p |
| Fri, 7/28 | Royals | 6:25p | 7:10p |
| Sat, 7/29 | Royals | 6:25p | 7:10p |
| Sun, 7/30 | Royals | TBD | TBD |
| Mon, 7/31 | Indians | 6:25p | 7:10p |
| Tue, 8/1 | Indians | 6:25p | 7:10p |
| Wed, 8/2 | Indians | 6:25p | 7:10p |
| Thu, 8/3 | White Sox | 6:25p | 7:10p |
| Fri 8/4 | White Sox | 6:25p | 7:10p |
| Sat, 8/5 | White Sox | 6:25p | 7:10p |
| Sun, 8/6 | White Sox | 12:50p | 1:35p |
| Tue, 8/8 | at Rays | 6:25p | 7:10p |
| Wed, 8/9 | at Rays | 6:25p | 7:10p |
| Fri, 8/11 | at Yankees | 6:20p | 7:05p |
| Sat, 8/12 | at Yankees | 3:20p | 4:05p |
| Sun, 8/13 | at Yankees | 12:20p | 1:05p |
| Tue, 8/15 | Cardinals | 6:25p | 7:10p |
| Wed, 8/16 | Cardinals | 6:25p | 7:10p |
| Fri, 8/18 | Yankees | 6:25p | 7:10p |
| Sat, 8/19 | Yankees | 6:25p | 7:10p |
| Sun, 8/20 | Yankees | TBD | TBD |
| Mon, 8/21 | at Indians | 6:25p | 7:10p |
| Tue, 8/22 | at Indians | 6:25p | 7:10p |
| Wed, 8/23 | at Indians | 6:25p | 7:10p |
| Thu, 8/24 | at Indians | 6:25p | 7:10p |
| Fri, 8/25 | Orioles | 6:25p | 7:10p |
| Sat, 8/26 | Orioles | 3:20p | 4:05p |
| Sun, 8/27 | Orioles | 12:50p | 1:35p |
| Mon, 8/28 | at Blue Jays | 6:20p | 7:07p |
| Tue, 8/29 | at Blue Jays | 6:20p | 7:07p |
| Wed, 8/30 | at Blue Jays | 6:20p | 7:07p |
| Thu, 8/31 | at Yankees | 6:20p | 7:05p |
| Fri, 9/1 | at Yankees | 6:20p | 7:05p |
| Sat, 9/2 | at Yankees | 12:20p | 1:05p |
| Sun, 9/3 | at Yankees | 12:20p | 1:05p |
| Mon, 9/4 | Blue Jays | 6:25p | 7:10p |
| Tue, 9/5 | Blue Jays | 6:25p | 7:10p |
| Wed, 9/6 | Blue Jays | 6:25p | 7:10p |
| Fri, 9/8 | Rays | 6:25p | 7:10p |
| Sat, 9/9 | Rays | 6:25p | 7:10p |
| Sun, 9/10 | Rays | 12:50p | 1:35p |
| Tue, 9/12 | Athletics | 6:25p | 7:10p |
| Wed, 9/13 | Athletics | 6:25p | 7:10p |
| Thu, 9/14 | Athletics | 6:25p | 7:10p |
| Fri, 9/15 | at Rays | 6:25p | 7:10p |
| Sat, 9/16 | at Rays | 5:25p | 6:10p |
| Sun, 9/17 | at Rays | 12:25p | 1:10p |
| Mon, 9/18 | at Orioles | 6:20p | 7:05p |
| Tue, 9/19 | at Orioles | 6:20p | 7:05p |
| Wed, 9/20 | at Orioles | 6:20p | 7:05p |
| Fri, 9/22 | at Reds | 6:25p | 7:10p |
| Sat, 9/23 | at Reds | 3:25p | 4:10p |
| Sun, 9/24 | at Reds | 12:25p | 1:10p |
| Mon, 9/25 | Blue Jays | 6:25p | 7:10p |
| Tue, 9/26 | Blue Jays | 6:25p | 7:10p |
| Wed, 9/27 | Blue Jays | 6:25p | 7:10p |
| Thu, 9/28 | Astros | 6:25p | 7:10p |
| Fri, 9/29 | Astros | 6:25p | 7:10p |
| Sat, 9/30 | Astros | TBD | TBD |
| Sun, 10/1 | Astros | 2:20p | 3:05p |